Staff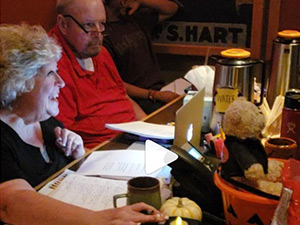 Joyce Castellanos teaches a
Promo Roper
class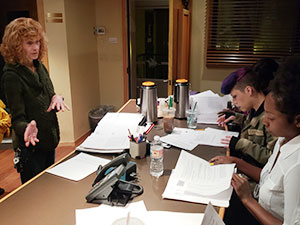 Laurel van der Linde directs a
Commercial Cutter
class
Stacey Michaels teaches a class in ADR
Director
Laurel van der Linde – has a career that encompasses everything from the sound booth to the sound stage, from ballet to Broadway. Having sat on all sides of the production table as a casting director, voiceover agent, producer and director, she understands the requirements of each production discipline as well as the needs of the individual actor. She has produced and directed audiobooks for such publishing houses as Hachette, Brilliance, BBC AS and Full Cast Audio. Laurel is also a writer with a five books to her credit published by MacMillan, Lerner and Simon and Schuster along with a host of magazine articles.
Engineers
Myron Chandler – is fluent in all technical aspects of audio production. A Grammy Award-winning engineer, Myron has recorded and/or mixed for a variety of artists including George Benson, Babyface, The Underdogs, Earth, Wind and Fire's Verdine White, Eddie McCoy and the last Michael Jackson CD. A specialist in music production, he has been the technical director for Prince, Sinbad and Freddie Ravel. His expertise has earned him the title of "Miracle Myron" as he can handle any technical situation and fix – anything.
Evan Salce – first began to study sound design at Occidental College. There, he honed his craft in voiceover recording, production, post-production and mixing by working on numerous college films and TV shows. After graduating, Evan began working as a Production Coordinator and sound mixer on various animated shows for Machinima, Inc. He has also worked as a director, writer and producer on independent films.
Zac Imperial – has a history in many facets of production. He has worked on many independent projects with a wide array of artists and producers. His knowledge spans across several audio disciplines including ADR, Foley, sound design, mixing and of course, recording. He has fully produced a couple of albums and soundtracks for independent clients.